Wine Week - 2014
I am very happy to report Royal Wolf Lodge and Sienna Ridge Estate wine week was an enormous success. Our couples week, led by the owners of Sienna Ridge Estate, Wayne Hitchings and Glenda Dodson, provided one of the most joyful weeks in the twenty year history of Royal Wolf. Starting each evening with excellent Champagne led to bubbly conversations depicting the days events, which included fishing, (of course) hiking, rafting trips, tours of The Valley of 10,000 smokes, gourmet cooking classes, and spa days. Our resident massage therapist Tandi, and esthetician Tes, eased out the aches and pains of everyday life, and made everyone forget they were in the wilds of Alaska. Looking radiant after the spa treatment, they sat down to a dinner of quality and wine pairings that satisfied the most demanding palates. One word that might explain the weeks extravagance best would be "satiated."

Ahi Tuna starter for one meal~

Our Chef's, Micah and Stephanie made meals that satisfied the soul and certainly paired well with the variety of fine wines from Sienna Ridge Estate. I will try and give you some idea of the meals and pairings from the week, but to say; "You really had to be there!" is an understatement.
Here is what the table looked like before dinner and the following photo was taken during dinner.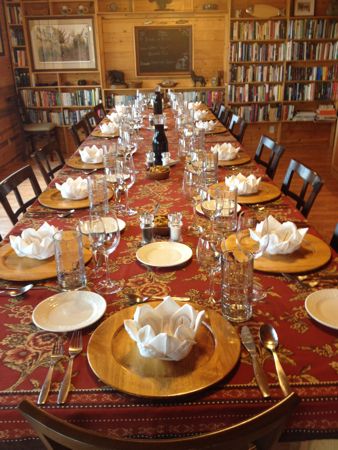 Our menus were diversified, starting with appetizers served in the living room, with Champagne, followed by first courses accompanied by delicious homemade breads and Focaccia's. The focaccia was so good we wanted it on the breakfast table the next morning, which was also fantastic. The focaccia was a blue cheese, pear, toasted walnut and caramelized onion affair, which would warm the heart of a cold beast. Here is a menu from one of the evening meals. (If anyone would like a recipe for the Focaccia or the Panna Cotta, please email me and I will forward it to you.)


Another cooking course offered was homemade pasta, with a first course that evening consisting of butternut squash and cheese filled ravioli with a brown butter sauce. Yes, it was awesome.

Another great meal that week was the Alaskan style Jambalaya and the dessert was definitely memorable. The chefs created a fresh nectarine tart accompanied by probably the most delicious ice wine I have ever tasted. The dessert ice wine with the nectarine tart is something that will stand out in my mind forever. The Sienna Ridge Estate ice wine was full of plum and apricot flavors that just made you want to linger at the table a bit longer and enjoy every last drop of exquisite taste.
Photo of a flourless chocolate dessert with bourbon brown sugar whipped cream and spun sugar.
Our many thanks go out to Wayne and Glenda and their fabulous Oregon vineyard, Sienna Ridge Estates. If you are ever in the vicinity you should stop by their tasting room at 1876 John Long Road - Oakland, Oregon. Or check out their website www.siennaridgeestate.com

They have truly developed some outstanding wines, it is no wonder they won gold medals in the San Francisco Chronicle blind wine tastings. The vineyard itself is nestled in the hills to the southeast of the tasting room, and is one of the few single vineyards in the United States with their own A.V.A. Red Hill, Douglas County, Oregon. The sixteen foot deep volcanic red Jory soil, combined with an 1100 ft. elevation is perfect for grape growing. They are proud of their varietals, and so are we.
Also many thanks to all of our guests, everyone of you added joy, laughter and many lasting memories :
Shad and Shaynna
Mike and Joanna
Steve and Karen
Deb and Trudy (sorry you missed it Dave, but Trudy isn't!)
Jeff and Winona

You all made it a wonderful week. . . so wonderful we have decided to do it again next year, July 31 - August 7th, 2015 I will post more about that week later on, but if you are interested, it will be first come, first serve couples week . . .and we plan to take it a step further!
Recent Posts
Blog Archive
Search by Tags
Links