Crazy Alaskan Weather (what doesn't make the lower 48 news)
We have no winter snow! We closed up for the season and flew back to Anchorage at the end of September, and the mountains had no new snow. I have never seen that in over 40-years in Alaska. We left the lodge to the bears and nature, and there were plenty on the home river, since million of Pink salmon had spawned and died, leaving an abundance of food for the Rainbow. The bears did walk up the trail from the river to the lodge to feed on berries around the lodge and cabins.
The Rainbow are going to have a healthy winter due to the extremely high food content left by the Pink Salmon. The millions of dislodged and unfertilized eggs will allow the rainbow to feed well into December, then when the hatching Pink Salmon fry emerge from the gravel beds the feeding will continue through the the New Year. We have to keep those rainbow healthy!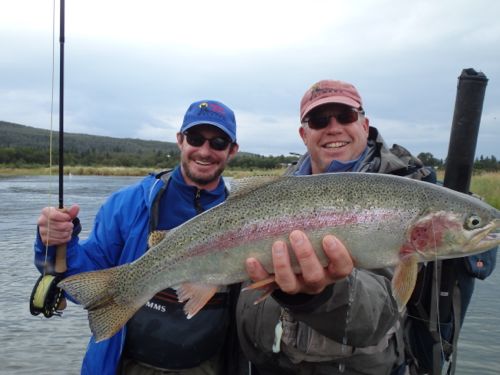 The most significant change that supports this conclusion is our current weather pattern in Alaska. We have record breaking warm weather, even now the temperature at the lodge remains above freezing, mostly 40-degrees and above. The Rainbows are loving the warmer water, it feels like summer and they are going to be big, fat, and healthy by June. If you have not already made plans for 2015, this will be the year, and we still have some availabilities. Even the Sockeye Salmon run for 2015 is expected to be over 40-million strong, which has made headlines in Alaska.

Those who have not booked. . .well, you will miss out on this great miracle of nature occurring in Alaska. It is not too late, but we are filling up quickly for next year. Enjoy your Thanksgiving, but we are feeling sorry for those back East buried up to their doorways in snow. Who knew you would have to come to Alaska to enjoy warmer weather? As we blog today, King Salmon Alaska is almost 50-degrees.
Recent Posts
Blog Archive
Search by Tags
Links