Our Home Away From Home, East Africa
After our photo safaris in East Africa this year, you would think we would be tired of showing people the East Africa we love. Apparently not, as we are already planning for the next safaris.

Our first safari was just before Christmas when we met up with friends and neighbors, the Bob Pease, and Bret Mason families from Anchorage. We started off the safari in the Maasai Mara, first at Serian Camp on the Maasai Mara, (located in the Mara North Conservancy,) where we saw such a huge variety of animals in a small amount of time. After 3-nights we moved to their other camp, Nkorombo Camp, which was further down the Mara River. Spending Christmas there was more festive than any Christmas I've ever celebrated in the U.S. They certainly pulled out all the stops, feeding us an incredible Christmas Eve dinner, Christmas breakfast, Christmas lunch, Christmas tea, and then (pant-pant) Christmas dinner, including the traditional "crackers." It was a good thing our next safari was a walking camel safari, so we could burn off a few of those calories.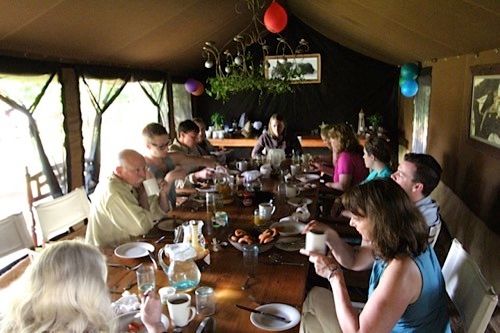 Having four young people along, reminded me how old my bones are! I'm afraid I don't keep up like I used to. Especially after a 4-day camel and walking safari in the heat of Lakipia, where our camp was taken down every morning, loaded onto the camels, hiking until lunch, then onward to the next camp site. Our new camp was already set up when we arrived, including bucket showers and individual tents, after drinks and dinner under the stars we retired to our cozy tents. The night sounds of hyena, and other animals is always exciting, but the sounds of the camels communicating during the night, sounded rather comforting, when you got used to it. The next morning was a repeat, after a hearty breakfast we were off again to explore. If we tired, the camels were waiting to give us a break, which was sometimes very welcome. The guides were terrific, and both Jamie Christian and Kerry Glen make Karisia a wonderful experience. I will never forget Gabriel's wonderful surprise 24th wedding anniversary celebration on top of a high hill, with native "jump" dancing, and a beautiful heart formed in stone with "Happy Anniversary Chris and Linda" in the center. I almost missed it, but that is another story! We spent our last night in a camp on the Ewaso Nyiro River, which is one of my favorite rivers that runs along the eastern edge of the Laikipia Plateau and then turns eastward toward Samburu National Reserve.I would definitely put this unforgettable trip in the "adventure' category.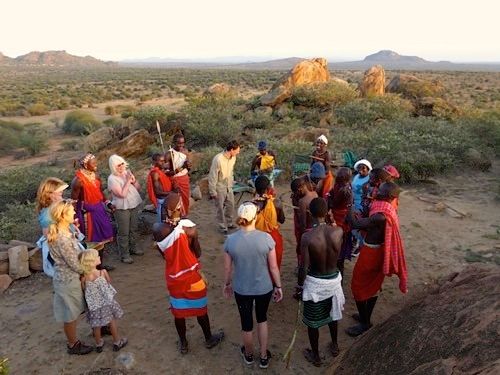 After "roughing" it with hiking, bucket showers, and spending the night in a tent watching the stars, I figured everyone deserved a couple of nights of luxury at Kifaru House (rhino in Swahili) situated in Lewa Wildlife Conservancy. We had the entire beautiful place to our selves. Private infinity pool, indoor, or outdoor dining, private chefs, private houses for each and our own private guide and driver. It was a welcome change. We spent New Years Eve at Kifaru and I think Ryan, Joey, Mac and Alex were the only ones to greet the New Year properly and stay up past 9:00!
After we said goodbye to the Pease's and Mason's we took a break to visit our good friend Charlie Strachan at a huge cattle ranch, where I helped cook and feed the baby orphaned buffalo, Bella.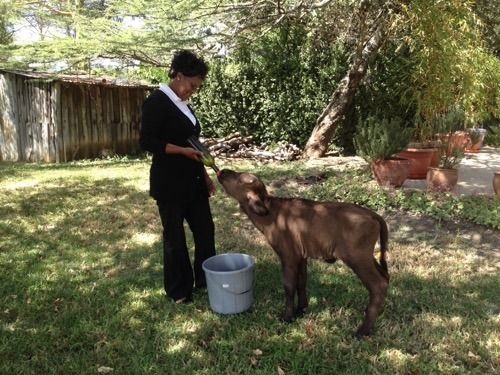 Chris helped Charlie dip thousands of cattle for ticks, which had to be done 3-times a week. Then we went to Nairobi to wait for our friends the Lorenzen's to arrive from Canada. Staying "again" with our dear friends, Mark and Antonia Glen in Langata. . .where I sometimes think we should pay rent! They are so kind and always make us feel so welcome.

Chris and Lou Lorenzen flew in from Paris and we spent the first night at the Boma in Nairobi and took off the next day for Richard's Camp in the Maasai Mara. Richard Roberts has a wonderful camp, where you will always have a trip of a lifetime. so many places to stay in the Mara, but this is a good one! Most of our guests have never been to Africa, so it was with Lou and Chris. After Lou gave up her fear of being eaten by a lion, she had a grand time!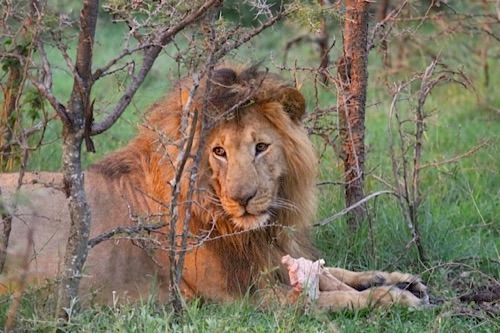 Each experience better than the last and no scarcity of wild animals in the Mara, that is a given.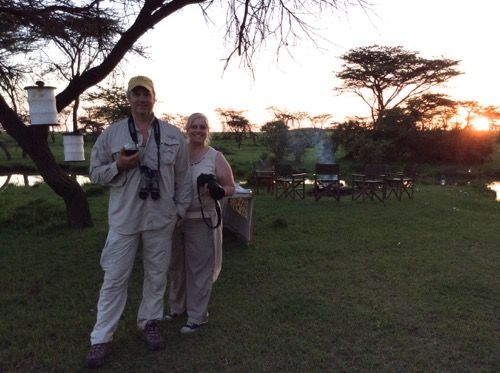 After the Mara we took a private charter to Lakipia again and stayed at Tassia, which is a wonderful little gem carved out of the natural rock and nestled into the hillside. From a distance you can barely tell there is a lodge there. . . it is so well camouflaged it blends in perfectly with the hills. Antonia and Martin are excellent hosts and it is always great fun to hear Martin talk about his raptors and their history. Antonia Hall has a wonderful program she has set up with the local Samburu women and gives them projects that utilize their wonderful skills in beading. Besides taking care of the home, raising the children, hauling water for many miles and cooking, they somehow find the time to make beautiful jewelry, especially their beaded bags that Antonia is now selling in London. The women make extra money that helps them pay their children's school fees and also allows them to buy cooking pans and things they need in their homes. Tassia is a unique experience, with game, and some of the best food served in any lodge.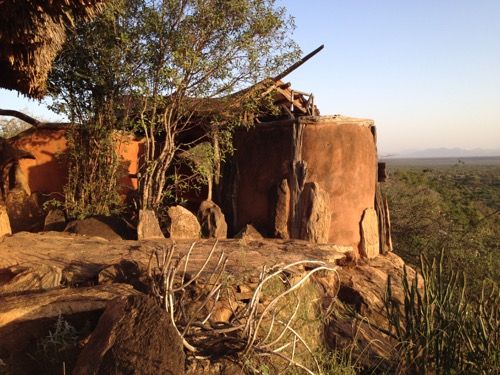 Martin was kind enough to drive us to Lewa and Sirikoi, which is about a 2-hour drive, but what a great way to get the lay of the land. Sometimes you miss this by flying everywhere, but of course you can't always drive and must fly, sort of like Alaska.

We arrived in time for lunch and the Lorenzen's were very pleased with Sirikoi. All the dining is done outside on a beautiful wooden deck, under a very large yellow fever tree. It not only shades you, (even though there is a tarp overhead too) but is home to many different living species. You never know what you might encounter during meal time at Sirikoi; it could be elephants drinking at the watering hole, water buck walking beside you as you go to breakfast, the pet giraffe wanting a breakfast handout, or a large heard of Impala having a slight disagreement while you are sleeping. The sounds of a leopard in the night, or the alarming scream of a hyena, or rock hyrax, reminding you that you are visiting someplace that is very wild.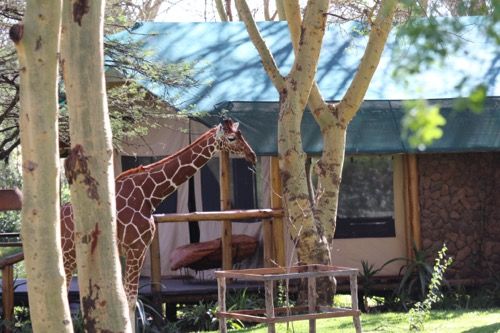 The bathtubs in your rooms, or the fireplaces in your "tent," are extremely comforting and pleasing to the eye, but you are in the middle of a true wilderness, which makes it very exciting. The guides are the best and there is plenty of wildlife to see on your drives, including the Grevy's Zebra and Black and White Rhino. You might have a breakfast in the bush, or a candlelit bush dinner under the stars, it is all wonderful and makes you want to come back time after time.
This time we ended our safari with a beach experience, which none of us were too sure of, but it turned out to be a wonderful relaxing experience. We stayed in the Coastal town of Watamu on the Indian Ocean and rented a large private home with a beach house. The house came with a full staff, so all our meals were made for us and the local fisherman brought the freshly caught mangrove crab, calamari, and fresh fish to the kitchen door daily. Since there was such a grand beach cabana between the ocean and the pool, we ended up having all meals except breakfast there. We explored old ruins, went fishing, snorkeling, had sundowners on a Dhow and sampled some of the local restaurants. Great way to relax and enjoy the sun before they headed back to snowy Canada.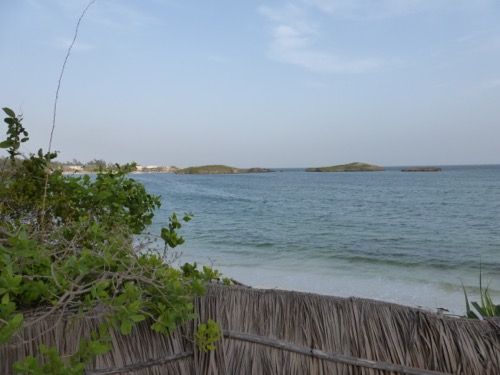 After we said goodbye to the Lorenzen's we took off for East Tsvao with Mark as pilot and visited a lodge he is building for the Sheldrick Wildlife Trust, and then he dropped us off to visit Nick Trent in Tsvao, who is the chief pilot for the Sheldrick Trust. It was a great experience, but seeing first hand some of the poaching that is going on was not easy to understand.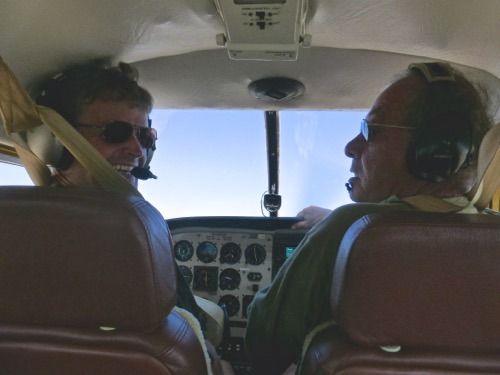 I've been trying to educate people about the horrible poaching going on in Africa and sometimes it feels like it is falling on dead ears. The Sheldrick Trust is doing some amazing work, not only in rescuing the orphaned baby elephants that are mostly all a result of poaching, but in educating people about what they can do to help and make people aware of the horrendous impact poaching has had on the elephant population. There is one elephant killed every 15 minutes! Very difficult to believe, but it is happening and your grandchildren may not ever get a chance to see an elephant in the wild.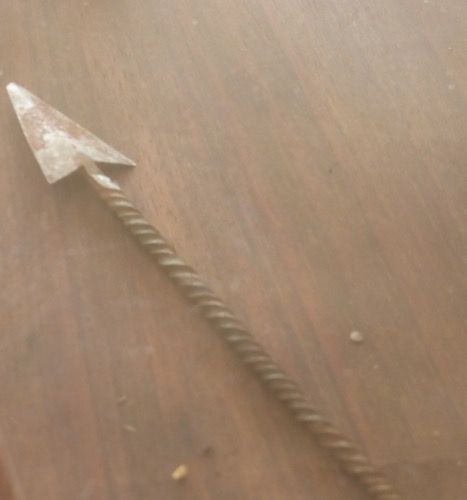 In this area of Tsvao, the elephants are shot with homemade poison arrows. Sometimes they die, sometimes they don't, but it is always a long slow death. When Nick, or other pilots, find a wounded elephant, they dart the elephant, remove the arrow and clean out the wound and the poison as best they can, and then treat it with a disinfectant. After the elephant is on its feet, they can only hope for the best. You would think the people working to stop poaching would become hardened after awhile, but they never do. Each time is a tragedy and just like an elephant, you never forget.

Rather spur of the moment, we decided to fly to Tanzania and visit Alex Walker's two safari camps in the Serengeti. It was a great choice as we saw a lot of young Wildebeest being born and many large herds starting their migration. It was a full moon while we there and I captured this early morning photo of the moon going down outside my tent.
Our last trip was with Mark, Antonia, Angus and Toby Glen to Tortillis Camp in Amboseli National Park. We stayed in the private house with our own pool. Our friends were the relief managers while we visited, some of you may remember Daniella and Pieter when they spent a summer with us at Royal Wolf. It was great to see them again and they are loving their jobs. . . who wouldn't? Chris went out one day with Pieter to do some photography, made better with the magnificent backdrop of Mt. Kilimanjaro. When Chris was charged by a rather large elephant, I think they packed it in and came back to join us for sundowners.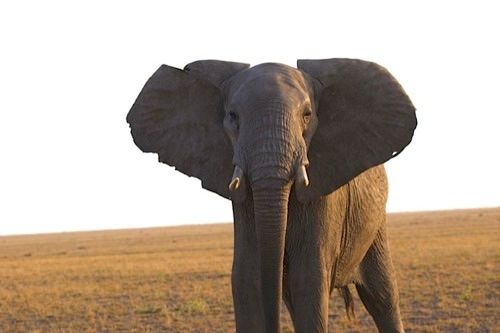 I loved Amboseli, my first time there. . .but they need rain! Even the Maasai cattle are running out of grass and water. So sad to see drought and the toll it takes on wildlife and humans alike.

It was a great winter and we are already planning the next safari's for December and January of this year, and next. It is fun and we love doing it. Wonderful wild East Africa, good friends and a great way to get away from the cold of Alaska for a couple of months, (even though it has not been very cold in Alaska this winter.)
*An added thought; the only thing to fear in East Africa is not seeing it soon enough. East Africa is very safe, so see it while you can. Wild places seem to disappear way too quickly on this planet.
See you this summer, we have a full schedule for this season, it looks like an exiting summer at Royal Wolf, so if we don't see you this season, hopefully we will see you next year.
Recent Posts
Blog Archive
Search by Tags
Links