Alaskan Spring at Royal Wolf Lodge
What a great start to a wonderful season. Not only are anglers fishing in short sleeves, they are having some of the best fishing ever. Early season fishing is back folks! No crowds, hungry fish and weather that has been warmer than Texas.
Texan guests, Stewart Henderson and his 3 sons, William, Clay, and Matt were wonderful guests enjoying their first trip to Alaska. Not quite a typical Alaskan summer, but since they are used to heat, they didn't complain. Besides great fishing, they got a chance to take some beautiful photographs of a wolf peaking through some wild Jacob's Ladder. Stewart captured this incredible photo.
Remember, it isn't just about fishing, it is what you see and what is "watching you!"
I love June fishing, everyone is happy and each experience seems like a first time. The sparkling colors of the Rainbow, sunlight bouncing off his back, carefully caught and released, winter survival was predominant and the struggle for continuance on this earth has spelled success.
We are extremely lucky to witness this cycle of life in so many forms during the spring. Bonaparte's Gull are quite noisy for a reason, they have eggs they must protect from the wily fox and predators that swoop down unannounced. The loons, that frequent the lake every year, have already lost their first eggs to a predator, yet they continue, the maternal instinct taking over no matter the odds.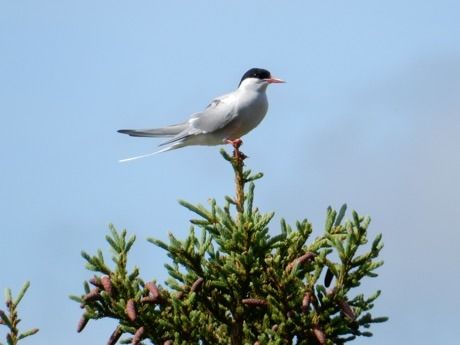 The Arctic Terns sit on the top of the trees like misplaced Christmas ornaments, daring anyone to come near their nesting mate. With sunlight predominate this time of year, they keep up their cries most of the night. I'm never quite sure they are communicating an actual message, or perhaps nothing but a mindless chatter.
A lone bear greeted us on the airstrip today, just curious, walking through the territory, hoping to find a morsel that will help fill its empty belly until the salmon come into the streams. It appears that nature leaves no stone unturned, something out there has investigated it first, so one can ever assume you are the first on the scene. Countless others have undoubtably viewed whatever you have discovered, either from the sky, from a tree, behind a shrub or peeking out from under a leaf. Yet we get our thrill from discovery, from thinking we are the first to see something sensational that nature has allowed us to view.
Three weeks into our 2015 season and it holds the promise of expectations being met, good fishing, good friends, good food and a few stories building, to be retold many times, bringing smiles of remembrance. A gift from a Father to his son, daughter, wife, or friends reacquainting themselves with a camaraderie too good to forget. You really don't need an excuse to go fishing.
Recent Posts
Blog Archive
Search by Tags
Links