Winter Comes Early to Alaska - 2015
The last week of our 2015 season ended with lot's of white fluffy snow, hail the size of marbles, pouring rain, (which made beautiful rainbows when the sun came out,) and the not so wonderful turbulent winds, which didn't leave until we felt thoroughly respectful of its power. (Next years to do list; 1) Put up several windmills.)
They are saying it was the coldest and wettest September on record in Alaska.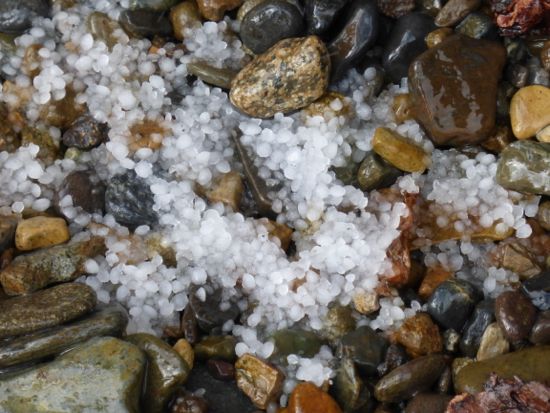 One minute hail, next minute rain, and then sunshine!

In spite of the weather, we ended with a great week of enormous rainbows, a great group of guys that plan on making the last week a repeat next year. Sometimes people just seem to prefer natures cacophony to that 80-degree day where you have bluebird skis and each rainbow landed is a brow mopping extravaganza. No matter, as there are benefits with every type of weather.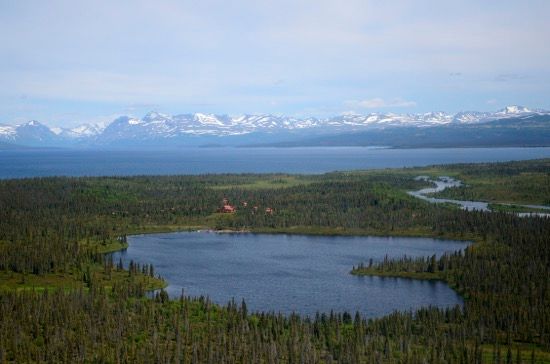 Snow on mountains behind Royal Wolf Lodge

When anglers question us as to the best week to visit the lodge, I have to think it over carefully. As all weeks are good, but you have to find out if they prefer longer, lighter days, which we call "fair weather fishing," or late season football sized fish, with less daylight and chancy weather? Is it all about fishing, or does watching bears do what they do best take priority? First time anglers, or seasoned pro's? There really is a menu, but to make it more adventurous, mother nature always has the last word. This is what I think it should look like if you ordered your fishing of the day:
~ Menu ~
Appetizer - Dry flies a la carte - Really hungry for almost anything you might cast my way, so hungry I will do acrobatics to get that juicy fly in my mouth.
First Course - Getting a bit more selective now, but those long streaming things floating in the water look pretty tempting, still waiting for the salmon course though.
Entree - All about gorging myself on salmon eggs and eating as much as I can possibly hold.
Dessert - So full I can't hold another thing ______ but wait _____ that sweet little flesh fly looks pretty amazing, I really shouldn't. . . but just a little taste won't hurt.
I think it is siesta time after this full course menu, which means a long nap under ice.
Okay, once again my imagination got away from me, but not too far from the truth?

Okay, enough stalling, are you ready for some BIG FISH photo's? They are still coming in, but here are a few to keep you happy.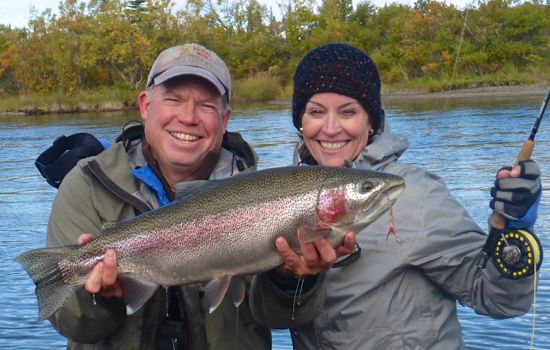 Sheri Brosier and Dave Goodhart - nice catch!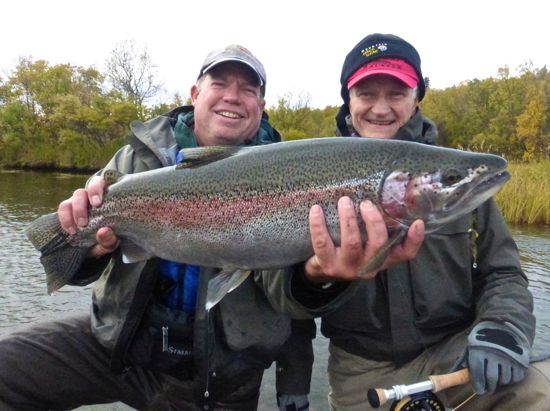 Dave Goodhart and James Baird with big bow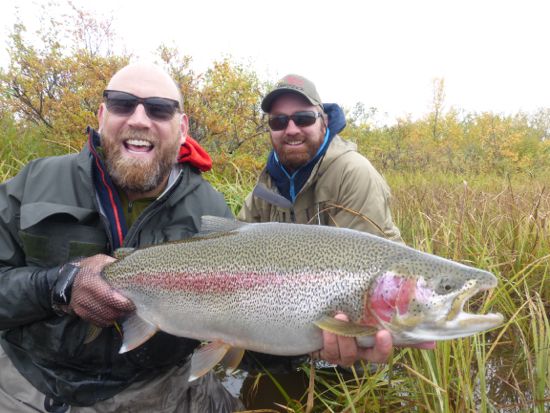 Ashton Brietkreutz and Ben McClure - nice rainbow! Ashton looks happy.


Ryan Davey with nice bow!
Recent Posts
Blog Archive
Search by Tags
Links